March 19, 2017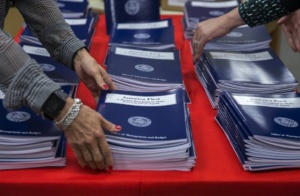 President Trump's initial budget proposal for FY2018 slashes funding for the Department of Education by $9 billion (a 13.5% cut) which would roll back education funding (excluding Pell Grants) to pre-2002 levels (in current dollars), despite 8.6 million more students in our classrooms.  The budget is the opening salvo in the Trump/DeVos school privatization agenda. While short on details, it is long on ways to undermine public education. It adds $1.4 billion for "school choice," with plans to ramp up to $20 billion over time; $1 billion for Title I portability; $250 million for a new private school voucher program; and a $168 million increase for charter schools. Meanwhile, the budget calls for eliminating a $2.3 billion professional development, teacher training and class size reduction program, eliminates a $1.2 billion after-school program, and slashes grant aid for low-income students to attend higher education. Check out NEA President Lily Eskelsen Garcia's statement, and Click on the take action button to tell members of Congress to oppose the Trump/DeVos anti-public education agenda.
Hearings on Judge Gorsuch to begin Monday
Educators who work with students with disabilities will be meeting with their senators in Washington while the Senate Judiciary Committee holds hearings, starting March 20, on Judge Neil Gorsuch, nominated by President Trump to fill the vacancy on the Supreme Court. NEA strongly opposes Judge Gorsuch. He has repeatedly ruled against students with disabilities who seek a public education, consistently sided with big business at the expense of working people, and embraced extreme views that could endanger workers' rights on issues like employment discrimination, worker safety, and wages. Tell both of your senators to vote NO on Judge Gorsuch – click on the take action button to email them, or call them at 1-855-632-1921.
GOP health bill provides $883 billion in tax cuts, strips 24 million of health coverage
The American Health Care Act, the GOP's "replacement" for the Affordable Care Act (also known as Obamacare), provides $883 billion in tax cuts while taking health coverage away from 24 million of the most vulnerable among us – children, the poor, the sick, and the elderly – by 2026, according to the analysis released March 13 by  the nonpartisan Congressional Budget Office. Nevertheless, the House Budget Committee approved the bill by a vote of 19-17 (all Democrats and three Republicans voted no), and the bill will be on the floor of the House on Thursday. NEA strongly opposes the American Health Care Act because it threatens health care for the 36 million children now covered by Medicaid. Click on the take action button and tell members of Congress to vote NO on the American Health Care Act.
Cheers and Jeers
Senators Elizabeth Warren (D-MA), James Inhofe (R-OK), and Jack Reed (D-RI) for helping to secure an exemption (for up to 700 staff) for Department of Defense school employees from the Trump administration's freeze on federal hiring
Senators Ed Markey (D-MA) and Dan Sullivan (R-AK) for their letter urging the Federal Communications Commission to support the E-Rate program.
President Trump and Education Secretary DeVos for their proposed FY2018 budget that would slash Department of Education funding by 13.5 percent, eliminating programs that reduce class sizes, provide after-school enrichments and help make college more affordable for low-income families
Published weekly by the National Education Association. To subscribe: http://edadvocacy.nea.org/home.
Privacy Policy